After the success of the Fenway Health vignettes we produced last year, Brigham & Women's Hospital approached us to produce similar videos for their HIV vaccine trials. Take a look into the lives of the volunteers that help make a future without HIV Aids a possibility for the generations to come.
Ben McElroy of Massachusetts based McElroy Films explains the top elements to look for in cinematic style videos when hiring a video production company.
Leominster, MA (PRWEB) February 9, 2010 — The recent movie making excitement in Massachusetts has started New Englanders thinking about translating their lives in slick Hollywood fashion. Wedding, corporate, nonprofit and music videos can all be approached in cinematic style. Video production companies, such as Massachusetts based McElroy Films, are now producing videos using techniques from the movie industry.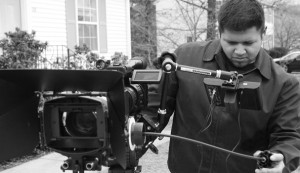 "The demand for better looking video is on the rise and Hollywood films are synonymous with a high quality look. Movie industry techniques can be found in most high-end video productions. Cinematic style wedding videos are so popular I now refer to them as 'wedding films' to distinguish them from other wedding videos." explains Ben McElroy of McElroy Films.
"Recently we were approached by NIKE who specifically requested the use of the Canon 7D. The Canon 7D is a new High Definition Digital SLR camera. They wanted the cinematic look of this camera. Clients are starting to think differently about video. They want the look and quality of a Hollywood film but not all of them are clear about what elements they are looking for. I work with them to get them the look they want."
McElroy explains the top elements to look for in a cinematic style video:
– Storytelling
Cinematic films require pre-production, including research and scripting. Most use interviews, voice-over narration, or both. The video production company you hire should have a skilled producer to write a compelling script, create interview questions that bring out emotion and drama, and who is able to put interviewees at ease so they come across in the best way possible.
– Imagery
The videographer must be familiar with film industry standards for subject placement and composition. The filming should not only be visually beautiful, but capture true emotions. It is the feeling the audience gets from watching a film that will compel them to take action or connect them to your story.
– High Definition Equipment
Not all "high-definition" equipment is the same. To create a cinematic style video, HD cameras with 1920×1080 resolution need to be used. Most modern HD cameras shoot in "progressive mode", which is essential for encoded video on the Internet.
– Lighting
Lighting is an important element for cinematic videos. The right lighting creates the mood and depth seen in Hollywood films.
– Movie Industry Speed
Hollywood uses a 24 frames per second (24p) frame rate. This eliminates the amateur "home-movie" look and will automatically give a professional cinematic feel.
– Glidecams and Dollies
The use of Glidecams gives a smooth cinematic look. It allows the camera to stay steady even while the videographer is walking or running. A dolly allows a camera to move smoothly to and from a subject.
– Professional Audio
Sound quality is essential to creating a cinematic video. Wireless microphones, booms and a good audio technician should be used on productions to create crisp, movie quality audio.
– Multiple Cameras
Having multiple cameras allows the production company to have a variety of camera angles and perspectives to work with when editing a cinematic video. The final product will have a more interesting and realistic look.
– Music
Good quality music from a music library is another important element in cinematic videos. Music helps to move the video along and sets the mood for different scenes.
– Cinematic Editing Techniques and Special Effects
All movies have a movie "trailer" which shows exciting highlights of the full-length feature film. Video production companies can borrow this technique from Hollywood when editing your video. Popular techniques for cinematic videos are color correction, black and white and soft focus.
About McElroy Films
McElroy Films LLC is a professional high definition video production company serving Massachusetts and New England. Specializing in corporate, educational, non-profit, wedding, independent filmmaking and music video production, McElroy Films provides a high quality product at a fraction of the cost. McElroy Films prides itself on its client-driven results and boutique-like service by affording each project the attention it deserves.
View the Press Release on PRWeb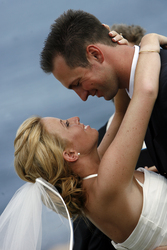 Ben McElroy of McElroy Films offers his top 10 tips for hiring the right wedding videographer to help brides avoid some common pitfalls.
Leominster, MA (PRWEB) November 30, 2009 — December is the most popular month to get engaged according to The Wedding Report. Once the initial excitement wears off and a bride gets down to the business of wedding planning, she can often be overwhelmed at the number of decisions to be made. The actual wedding planning is important, but choosing the right videographer to preserve that special day is just as important.
"Choosing a videographer may take a lot of homework, but your do-diligence will pay off immensely. Your video is going to last a lifetime so make sure you're happy with every aspect of production." explains Ben McElroy of Massachusetts based McElroy Films. "There are a few pitfalls brides encounter, such as hiring a bait and switch company that subcontracts the work and not reading the fine print in their contract. A little planning in advance can help avoid these pitfalls."
Here are McElroy's top ten tips for choosing the right wedding videographer:
-   Start researching early. Take the time to do your homework. Make sure you meet with the actual person who will be shooting your wedding and have a list of questions ready. Research their education and experience. Do an internet search and visit forums and blogs. Ask to see previous customer testimonials.
-   Hire early on in the wedding planning process. Brides often wait until the last minute to hire a videographer but hiring early can make the process go more smoothly and open up additional video opportunities such as "save the date" videos.
-   View samples of their work in advance. Look for samples on their website. Watch as many videos from their archive as possible and pay attention to the quality of work. Look at the overall picture quality, composition, and transitions. Another crucial aspect is the audio quality. Ask if they use wireless microphones for professional quality sound. Some videographers use on board microphones only, but the sound quality is poor, especially for vows and speeches.
-   Choose a video production company with customizable service. A good production company will keep up on the latest trends in wedding videos and will offer client-driven services rather than an outdated, one-size-fits-all approach.
-   Be specific about the mood, style, and special effects you're looking for. Bring samples with you to show what you want. Ask to see the different types of special effects they offer.
-   Ask about their video style. Some companies are now offering a modern approach to video including Save the Date, Vignettes, and Couple Stories. Find out what else can be included in your video such as highlights, credits, or photomontages. Cinematic Weddings is a hot video trend. They create an overall mood beyond basic footage. Look for videographers using HD cameras and glidecams, shooting in 24 frames per second (FPS), and who are knowledgeable in cinematic editing techniques.
-   Consider their personality and appearance. Look for someone with the best personality and look to match the wedding theme. Be sure to tell the videographer what to wear for the wedding. If there is more than one videographer at the production company make sure to meet the person who will shoot the wedding.
-   Make sure they are unobtrusive. A great wedding videographer won't be noticed while still achieving everything needed to capture the big day. Ask if the videographer has experience at your ceremony and reception venues already. Videographers with newspaper or television experience are more likely to know proper etiquette and how to be unseen. State specific requests, such as not interrupting guests with interview questions, in advance.
-   Look for a company that offers High Definition (HD) from start to finish. Many companies are now offering HD, but not all HD is the same. Some videographers shoot in Standard Definition and then burn the footage to Blu-ray. Ask about what types of cameras they use and have them explain the differences. They should be using the latest HD cameras with 1080p resolution.
-   Find out if they can stay within your budget. Look for any additional fees. Most deposits are non-refundable so keep that in mind. Ask if they are running any discounts or special promotions. Many production companies are now offering a gift registry to finance wedding videos. This can be added to overall cost or toward specific items such as additional hours or extra DVDs.
About McElroy Films
McElroy Films LLC is a professional high definition video production company serving Massachusetts and New England. Specializing in corporate, educational, non-profit, wedding, independent filmmaking and music video production, McElroy Films provides a high quality product at a fraction of the cost. McElroy Films prides itself on its client-driven results and boutique-like service by affording each project the attention it deserves.